Prom make-up and hair styling...
​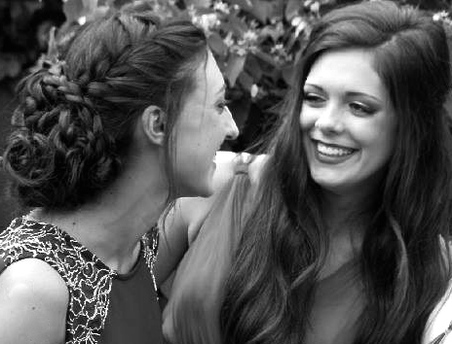 Prom is one of the biggest events on the social calendar for 16-18 year olds; the pressure to look your best is immense!
A great deal of focus is placed on finding that perfect prom dress and to compliment this should be a hair style and make-up look that make you radiate confidence and feel glamorous, both inside and out!
Achieving this yourself can be stressful, which is why I offer a make-up and hair styling service for Prom girls (at a discounted rate) to make feeling gorgeous affordable and achievable!
Scroll down to view my Prom Make-up & Hair Styling gallery and testimonials.
Prom Trials...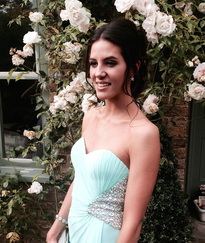 Your Prom make-up and hair-styling may not require a trial (as I can work from pictures and the discussions we have before the day itself), however it does allow you the freedom and time to work with me to create your perfect style in preparation for the special day. It also means that all you have to do is relax and allow me to re-create your desired look on the day itself.
If you would like to include a trial within your Prom day package then please do let me know upon contact.
Prom Trials (Under-18s only)
Prom Make-up Trial £45*
Prom Hair & Make-up Trial £55*
*prices include application of strip / individual lashes
Your Prom Day and what to expect...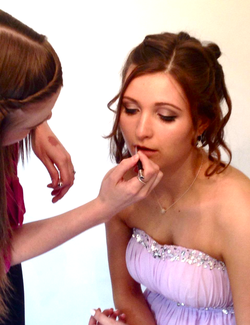 Before your Prom Day, I will ask you to send me pictures of yourself, both with and without make-up. If you would like to have your hair dressed also, I will ask you to provide me photos of you with your hair down. This allows me to establish the level of make-up you are comfortable wearing day-to-day, as well as the range of possible hairstyles that we can achieve. I also ask for you to send me pictures of make-up looks and hair styles which you are as close to your ideal as possible. This ensures that I have a good understanding of what you are looking for on the day itself and allows you to sit back, relax and allow me to transform you.
On the day of your event, as a mobile make-up artist and hair stylist, I am able to travel to you at your desired location and in plenty of time so that there is no rushing around. Please note that there may be an additional travel charge dependant upon the location.
The time it takes to get you ready is wholly determined by what your individual requirements are, however, as a guide, typically this can take between 1.5 to 2 hours. This is to ensure that, by the time I leave, you are 100% happy with the look that you have chosen.
Having your make-up done or hair styled is a very personal experience and it is completely natural to feel nervous or self-conscious beforehand - trust me, everybody worries about their own imperfections. This is why I do everything possible to help make sure you feel completely at ease throughout the entire process, for example, by paying extra attention to those areas where you may feel less confident in order to ensure that you feel at your most beautiful by the time I leave.
Prom day pricing...

Prom Day (Under-18s only)

Prom Day Make-up £55*
Prom Day Hair & Make-up £65*

*prices include the application of strip / individual lashes


How to pay your final balance...

Upon paying your deposit and confirming your booking, you will receive an invoice detailing the services you have requested and your outstanding balance. This balance must be paid either via bank transfer (full details to be provided on the invoice) no less than two days before your Prom Day, or in cash on the day itself.


How to secure your booking...

To secure your booking a 50% deposit of the total Prom Day / Trial cost is required via bank transfer or cheque. This deposit is non-refundable, however the date of the booking can be amended up until two days beforehand.

This amount is then deducted from any final, outstanding balance.

Please note for clients under the age of 18, permission will need to be provided by a parent or

guardian

for you to be able to enter into the agreement.




Travel costs...

I will always endeavour to cater to your individual needs, including travelling to you for your trial(s) and on the special day itself. Typically travel costs are included in the prices listed above, however, given some travel distances can be quite substantial, there may be additional travel charges incurred at times. This will, of course, be discussed with you upon enquiry / booking.



Prom Gallery & Testimonials...


​I could think of no other person I am more likely to recommend than Nyssa. From the time she arrived she was calm cheerful and friendly. She came for my daughters school prom and the beauty process was actually very much part of the event. Nyssa and my daughter chatted away with ease. No awkward moments. This really set the prom off to a great start. My daughter left the house felling happy, confident and looking gorgeous. Hair and her make up done exactly as she had envisaged. Nyssa is a lovely person who is extremely talented and if you make a booking with her you are making an excellent choice!

​Brigitte

Absolutely amazing! hair and makeup lasted for about 12 hours considering it was perfect throughout the after party too which was until 4am!

Skye Birch
​
Nyssa's talents are combined with a lovely nature and personality. She provides a comfortable, enjoyable experience throughout. Nyssa remained in contact throughout the entire booking process, making sure I was happy and all my needs and wishes were being met. After the trial I felt confident that Nyssa understood what I were trying to accomplish and she was very flexible and easy going about making changes, improvements etc. Nyssa has undeniable talent and I hope she continues to get the recognition and praise she deserves.

Olivia Conroy-Smith
I booked with Nyssa for my Prom hair and Make-up and I'm so glad I did. A really important part of what made the whole day so lovely was how she was such a nice person to have around. She spent the whole day with me and my friends and it was really enjoyable.

Nyssa put so much time into figuring out what look I was going for and this was really helpful and re-assuring. She went into a lot of detail when finding out what I was looking for which was really nice and she gave good guidance. I'd seen her talent from her website and Facebook and trusted her completely to create my look.
There was so much communication before the day, which really helped figure out what I wanted and got me excited for the event. She was able to exactly replicate the look I was thinking of and I was so happy with my hair and make up. I was over the moon.
Nyssa's products were of such good quality and I got so many compliments.
Without a doubt I would recommend Nyssa to anyone - she was a pleasure to deal with and a really talented make up artist and hair stylist.
Thank you Nyssa!Emma Chambers

I used Nyssa as my hair stylist and make up artist for my year 11 prom, which is usually a very big event in terms of hair and make up. I felt comfortable due to how welcoming and how much of a lovely person she really was. After my prom trial, I was so happy with the results, I recommended her to a friend and that is something I would continue to do. I couldn't of been happier with my prom hair and make up, and I felt very happy to have Nyssa as part of that.

Aimee Dimmock

The moment Nyssa arrived at the house on the day, she was so lovely and sweet. We all felt so comfortable around Nyssa straight away, which made the day very easy for everyone! Leading up to the day my expectations were already very high, but they were definitely exceeded on the day itself.
Straight away from the first email, I knew that Nyssa was the perfect artist for our prom day. Her communication with us was amazing letting us know every single detail straight away and not leaving anything important out. Nyssa managed to create the perfect image, which we are very grateful for - it was a great day. I would fully recommend Nyssa to anyone who is looking for a make up or hair artist as I feel that she exceeded all expectations. Thank you very much!

Franky Martin

I'm so glad we found Nyssa, she was very efficient and a lovely person to have my hair and make up done by.
I was so happy with my make up and despite me not being fully sure which hair style I wanted Nyssa was able to do exactly what I was looking for - thank you!

Hannah Jibson

Nyssa was absolutely amazing! She gave me the exact look I wanted! She was absolutely great company and made my prom experience ten times better just by being a part of it. The make-up was flawless and felt as light as if I had none on, but gave me full coverage. My hair was lovely and I got several compliments during Prom! Overall I was so pleased with my look and it wouldn't have been possible without Nyssa. Would definitely recommend you to use her, as I will be again in the future! Thank you.
Lucy Marsh
How to book your Prom make-up and hair styling package...
To enquire further / book your Prom make-up and hairstyling services, please fill out a
contact form
, e-mail me at
info
@nyssaaddison.co.uk
or, if you would prefer to speak to me in person, you can call me on
07539649270.

​